ALASKA PENINSULA CARIBOU HUNT
SPACE IS LIMITED – FIRST COME FIRST SERVE!
ALASKA PENINSULA CARIBOU HUNT
Barren Ground Caribou – Caribou (Rangifer tarandus granti)
Hunters will fly to Cold Bay Alaska typically a day or two prior to the beginning of the hunt.  Time and weather permitting we may get you into camp that day but plan on spending at least a day at the beginning and the end of the hunt in Cold Bay.  I will fly hunters out to camps as soon as weather and daylight permits. All hunts unless otherwise arranged are two hunters to one guide. The number of caribou seen in the field will vary from day to day but remember this is not like the north slope where you will see a herd of thousands of animals.  The southern Alaska Peninsula herd is an isolated herd which Alaska Department of Fish and Game say they want to keep the herd between 2500-4500 animals.  They are much more spread out in smaller groups ranging from a single animal to groups of 10-20 animals. Discuss with your guide prior to hunting what you are looking for in a trophy caribou. Most of the groups of bull caribou typically have a couple shooter bulls in them.  The trophy possibility in this area is high and the population seems to be doing very well. 
We will be tent camping so plan your clothing accordingly. The terrain here can very from tundra, marshes, beaches and rocky hills. I would recommend a waterproof hiking boot and either waders or hip boots, whichever you prefer hiking in. The weather here is typically wet and windy and at times can be some of the worst you have hunted in. The winds do and can reach over 100 miles per hour at times and we typically see storms with winds around 50 mph every year.  With the winds come the rain so heavy duty rain gear is a good idea. This being said the Alaska Peninsula is still one of the most incredible places I have ever hunted and cherish every opportunity I have to spend time here. It is still simply prehistoric. We frequently see very large brown bear, caribou, walrus, whale, porpoise, seal, sea otter, fox, wolves, bald eagle and this time of year the streams are full of silver salmon, dolly varden and steelhead!  Beach combing, fishing and bird hunting are also popular activities around here. After the hunt I will be flying you back to Cold Bay where you may again need some lodging. The flight schedules in and out of Cold Bay seem to change quite a bit due to weather and seat availability. Currently Alaska Airlines is is doing two flights a week from Anchorage to Cold Bay on Wednesday and Sunday.  This could change as they have speculated to adding a flight. The ticket agents are great at figuring out when they can get you out so be patient and flexible with your plans.
ALASKA RANGE CARIBOU HUNTS
Our Alaska Range Caribou hunts take place in August during our Dall Sheep season.  Typically plan on either flying into McGrath, Alaska or chartering a flight into the Alaska Range Mountains from Anchorage.  We will help figure out the details prior to your travel dates.  At this time of year the caribou haven't herded up yet.  They are still in velvet and are sprinkled throughout the area.  We often see them along the river beds or grazing in the mountains above tree line.  Smaller groups of bulls are common ranging from singles to around ten animals.  These caribou are on the edge of two different known herds, the Mulchatna herd and a more localized herd, the Big River-Farewell herd.  The trophy quality here is considered moderate to high.  The terrain in this area is mountainous so prepare to be hiking in the hills.  Down in the valley's be prepared to beat some brush while traveling.  At this time of the year we typically see nicer weather but almost inevitably prepare for some wet days.  During this time of the season black bear and wolf are also open with black bear being very abundant.  We customize hunt packages and offer multi spices if interested.  We would love to talk with you more and figure out your hunting dreams.  Call us or email us for any further questions.  Thanks!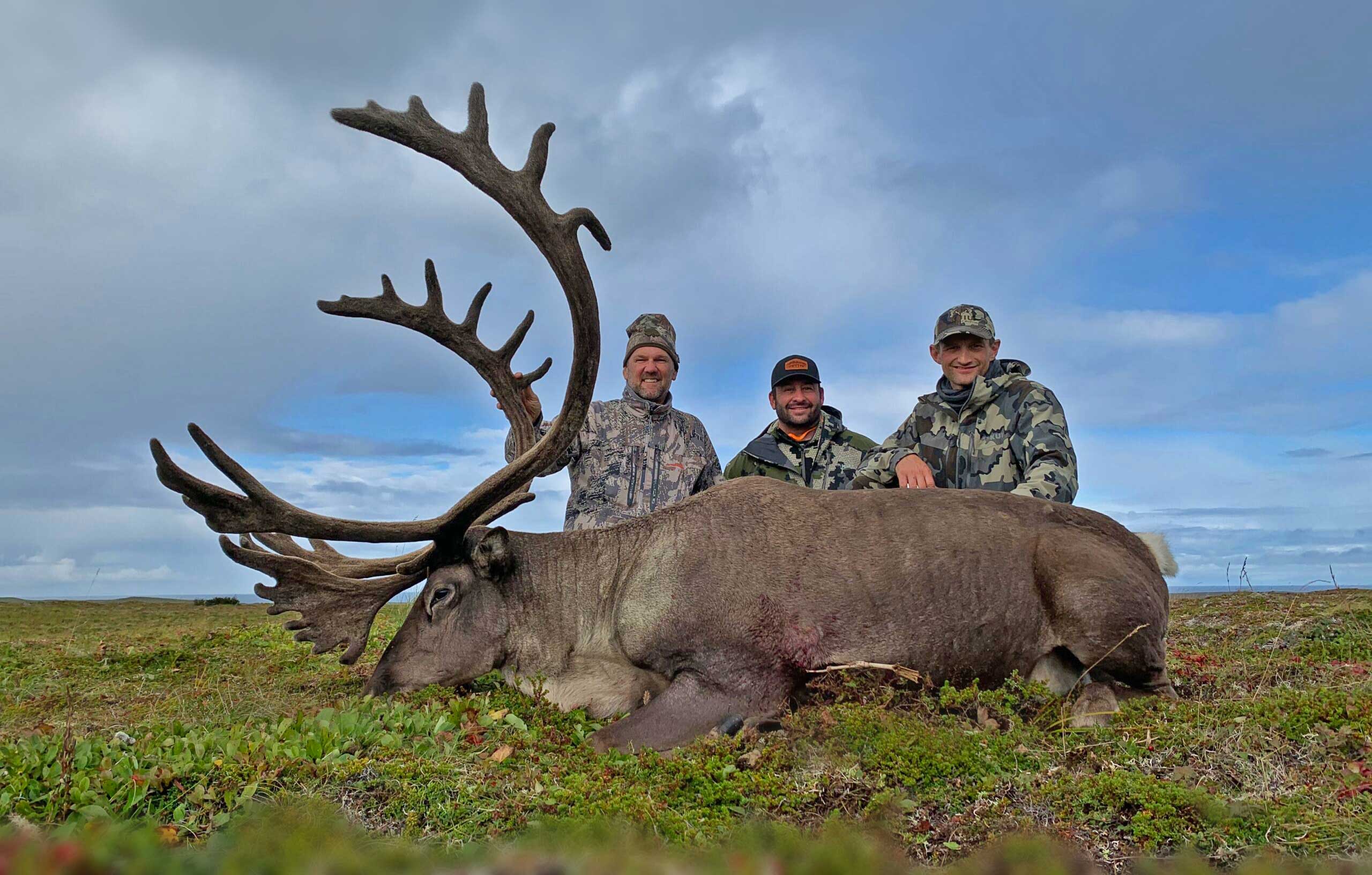 SCIENTIFIC NAME: Rangifer tarandus
TYPE: Mammals
DIET: Herbivore
GROUP NAME: Herd
AVERAGE LIFE SPAN IN THE WILD: 15 years
SIZE: 4 to 5 feet at the shoulder
WEIGHT: 350 to 400 pounds
SIZE RELATIVE TO A 6-FT MAN:
(graphic from https://www.dimensions.com/)
How many caribou are in Alaska?
750,000
There are approximately 750,000 wild caribou in Alaska (including some herds that are shared by Alaska and Canada's Yukon Territory).
Population numbers of caribou are somewhat cyclical, but the timing of declines and increases, and the size to which herds grow, is not very predictable. On average, people harvest about 22,000 caribou in Alaska each year.
ACCORDING TO:  Alaska Department of Fish and Game
Caribou are native to North America, whereas reindeer are native to northern Europe and Asia. Alaska does have some reindeer, however, imported from Siberia in the late 19th and early 20th centuries.
Trophy fees are an additional fee for animals harvested that are NOT the Primary animal hunted.  Primary animals are paid in full 30 days prior to the hunt.  
Example: You buy a sheep hunt and have a caribou tag as well.  If you decide to hunt and successfully kill a caribou you will have to pay a trophy fee for the caribou prior to leaving the field.  
One exception to this is the Caribou hunts on the Alaska Peninsula.  If you would like to hunt a second caribou you will need to pay prior to starting to hunt for it.  Your hunts are considered over once your primary animal is killed.  Also if blood is drawn on an animal but it is not recovered your hunt is considered over as well. 
Trophy Fees: Sheep $10,000, Moose $8,000, Grizzly/Brown Bear $6,000, Caribou $5,000, Black Bear $1,000, Wolverine $1,000, Wolf $0
Observer Rate (non hunting party member) $500 per day 5 day minimum ($2500)
COME EXPERIENCE THE UNTAMED WILDERNESS OF ALASKA'S "LAST FRONTIER".